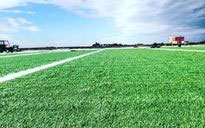 The Rantoul Family Sports Complex (RFSC) is a 60+ acre Sports Tourism Facility located in Central Illinois. Rantoul is the former home of the Chanute Airforce Base and located 15 miles north of Champaign Illinois, home to the University of Illinois. RFSC is owned and operated by the Village of Rantoul. Accessible by three major interstates, RFSC consists of 8 Baseball/Softball fields, 8 Multi-purpose fields lined for soccer, football, and more! Our 100% synthetic fields extend game time, endure during inclement weather, and increase quality play for all athletes.
The Rantoul Family Sports Complex was constructed in 2021 and funded by a combination of private contributions, sponsorships, donations and grants, and public funds. The mission of the Rantoul Family Sports Complex is to create economic impact for the community of Rantoul and Champaign County. Our community and RFSC offer many attractive amenities for Sports Planners, Athletes, and all of our Visitors.
Our Amenities at a Glance
8 Synthetic Baseball/Softball Turf Fields
2 Synthetic  T-Ball/Challenger Baseball Turf Fields
8 Synthetic  Soccer/Football/Multi-Purpose Turf Fields
Splash Pad & Playground on site
3 Concessions areas, Clean Restroom, Tournament Operations Space & Storage
900+ Parking Spaces
Convenient Access to Interstate 57, 74, & 72
Close to Hotels, Restaurants, Shopping, & Attractions.