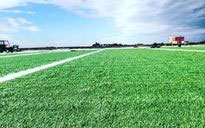 Rantoul Family Sports Complex, a 60+ acre facility located on the West side of Rantoul, will be owned and operated by the Village of Rantoul, IL. It is easily accessible by our region with its convenient location right off major highways and interstates. The Sports Complex will consist of 8 Baseball/Softball fields, 2 Little League/Challenger Fields, and 8 Soccer/Football/Rugby/Lacrosse multi-purpose fields, that also can  be used for many other sports and non-sport activities.
All fields will be on artificial turf surfaces, allowing for heavy use and ensuring extended play and no weather cancellations. Construction will commence in the Spring of 2020 and be funded by a combination of private contributions, sponsorships, donations and grants, and public funds. Our anticipated grand opening will be held in April of 2021.
Please no outside food and drink inside the sports complex.
What amenities are offered on or nearby the Sports Complex?
8 Baseball/Softball Turf Fields
2 T-Ball/Challenger Baseball Turf Fields
8 Soccer/Football/Rugby/Lacrosse Multi-Purpose Turf Fields
Splash Pad & Playground
3 Concessions, Restroom, Operations & Maintenance Buildings
800+ Parking Spaces
Convenient Access and Connectivity to Nearby Restaurants & Businesses